Location:
Situated on the beautiful, secluded Galu beach, about 25 miles south of Mombasa. Four miles away from the shops and entertainment at Diani and approximately 1 hour and 40 minutes from the airport.
Facilities:
Small and exclusive, Pinewood Village includes an attractive swimming pool with sunken pool bar, as well as a beach bar and snack bar.
The water sports centre has a dive school, windsurfing and a dhow for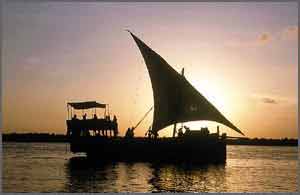 snorkelling, all at reasonable cost.
A squash court and a floodlit tennis court are also available.
Breakfast and dinner is cooked by your personal chef who prepares an unlimited choice of meals in your villa kitchen and serves them in the villa dining area. Pinewood's beach restaurant open twice a week for informal Barbecues.
A complimentary shuttle service to Diani is provided.
A small shop selling basic food items and groceries is also on the property.
Laundry facilities are provided free.
This hotel has 20 rooms:
All Villas are tastefully furnished to a high standard.
Each Villa has air conditioning, ceiling fan, two or three bedrooms, en-suite bathrooms, spacious living room, dining area and bar, telephone, kitchen, and long verandahs with barbecue facilities.
Opinion: Ideal for escapists who will appreciate the privacy, or groups of friends and families who can make their own entertainment.